Passpost holder of the following countries may enter Thailand and apply for VOA for tourism purpose with a periodof stay to 15 days.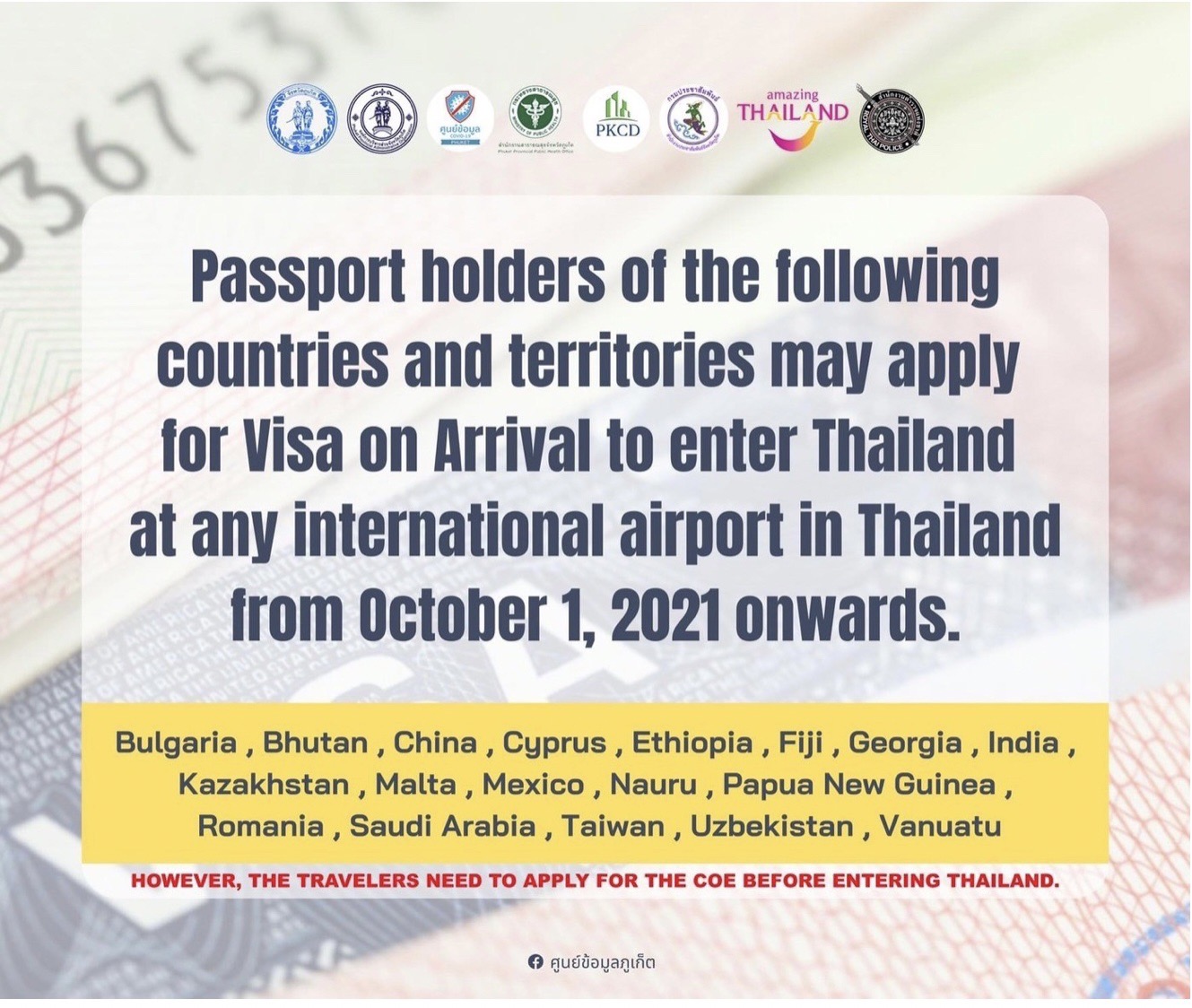 The applicant must possess means of living expenses at the amount of 10,000 Baht per person and 20,000 Baht per family accordingly.
The applicant must processes a passport with at least six-month validity and must present full paid ticket which is usable within 15 days since the date of entry. You cannot apply this visa with one way flight ticket.
Visa on arrival is provided at 48 designated international checkpoints and applicants should submit the application form duly filled out and to which his/her recent photograph (4 x 6cm) is attached. The application fee is 2,000 Bahts/Person.
Visitors who enter the Kingdom with Visa on Arrival generally cannot fill an application for extension of stay except in special cases such as illness which prevents them from travelling, etc. They can submit an application at the nearest Office of Immigration Bureau. (
www.immigration.go.th
)
Note:
Those holding travel documents for aliens (i.e. an alien passport or certificate of identity) have to apply for visa at the Royal Thai Embassy only.
The Royal Thai Government launched the "Online Application for Visa on Arrival (VOA)" service to facilitate passport holders that are eligible to apply for visas at the immigration checkpoints on arrival for the purpose of tourism. Only passenger arriving in Thailand via Suvarnabhumi Airport can apply for the Visa on Arrival onine prior to arrival in Thailand. The online application can be made at
https://extranet.immigration.go.th/voaonline/voaonline/VoaonlineAction.do
List of passport holders from countries that may apply for visas at the immigration checkpoints for the purpose of tourism for the period of not exceeding 15 days.
1. Bulgaria: Republic of Bulgaria
2. Bhutan: Kingdom of Bhutan
3. China: PRC, including Taiwan
4. Cyprus: Republic of Cyprus
5. Ethiopia: Federal Democratic Republic of Ethiopia
6. Fiji: The Republic of Fiji Islands (Starts 30.12.2016)
7. Georgia
8. India: Republic of India
9. Kazakhstan: Republic of Kazakhstan
10. Malta: Republic of Malta
11. Mexico: the United Mexican States
12. Nauru: the Republic of Nauru
13. Papua New Guinea (Starts 30.12.2016)
14. Romania: Romania
15. Saudi Arabia: Kingdom of Saudi Arabia
16. Uzbekistan : Republic of Uzbekistan
17. Vanuatu: the Republic of Vanuatu